Rhonda
– CAS Founder / Pet & Horse Care Pro
Rhonda Brown founded Custom Animal Services in 2002. Rhonda worked for both La Plata Animal Clinic and Riverview Animal Hospital for a combined total of nine years. Rhonda received her Bachelors of Science in Animal Science from Cal Poly San Luis Obispo in 1994.
Immediately after graduation Rhonda relocated to Durango where she has resided since. In addition to extensive medical small animal experience, Rhonda has owned, competed, and cared for horses since she was ten years old.
Rhonda enjoys spending time with her daughter Alli, her horses named Bud & Sky, Oakley who is a registered Therapy Dog and Coffee an adopted cat. Rhonda loves working with all types of animals and has cared for a wide variety of large & small animals, including exotics.
Alison
– CAS Pet, Horse & Farm Care Pro
Alison is a Colorado Native and lifelong animal lover. She started showing horses at the age of 6, and continued through high school. Alison moved to the Durango area in 1977 to attend Fort Lewis, and fell in love with the area.
During College she managed a local Arabian Show Horse barn. After receiving degrees in Accounting and Business Administration she realized that she could not sit behind a desk for a living. Alison started working for a local kennel and managed it for 15 years. During this time she pursued dog training and showing. She showed her own dogs through breed ring, obedience and on through Shutzhund training, which led to some Search and Rescue training. She has been training dogs for 26 years and currently works with people to train their dogs for upland bird hunting.
In 1992 Alison and her husband opened a commercial hunting preserve for upland gamebirds, where we offer hunting opportunities and repopulation efforts throughout the county. Our current menagerie of pets includes: 3 dogs, 3 cats, a cockatiel, 2 horses, a small herd of Corriente cattle, and 2 teenagers.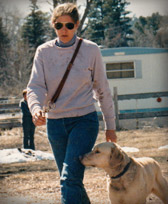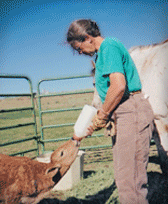 Suzie
– CAS Pet Care Pro
Suzie has been caring for animals her whole life. In 1991 she decided to make it her career as well as personal life. She spent the next 22 years working in Veterinary Medicine as a Veterinary Technician. She has had a very diverse career working in Clinical , Emergency , and Research hospitals. In June of 2000 a clinic where she was working was featured in Veterinary Economics as a Hospital of Excellence.
Suzie moved to Durango in February of 2012 from the Fort Worth area. She is truly enjoying Durango and spends as much time outside as possible. She lives with her fiance Jason, his mom, and our wonderful fur family, Derby an American Dingo, PD a short haired dachshund mix, and Doodles a long haired dachshund mix. In her spare time she enjoys hiking, gardening, skiing, and any other fun activity that comes her way.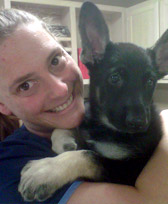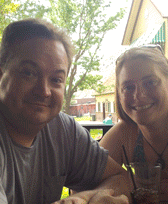 Lauren
– CAS Pet Care Pro
Lauren grew up in Grand Rapids, Michigan and has always loved animals. Over the years she has had many dogs, cats, birds, and a spotted leopard gecko. After graduating Denison University, Lauren traveled the world for 8 months, including volunteer work in Africa and Nepal. In 2010, she moved to Evergreen, Colorado to work for a travel company and an online education company.
Lauren moved to Durango in 2011 to continue working as an online educational researcher. She recently adopted Takoda, a rescue from Farmington. Luckily he is a very athletic dog that can keep up with her hiking, trail running and stand up paddling.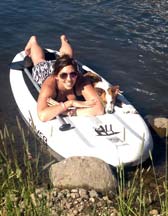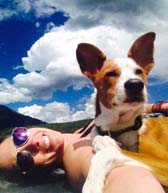 Catherine
– CAS Pet & Horse Care Pro
Born in Seattle, Catherine has been an animal lover since day one. She moved to Durango after falling in love with the area when the eldest of her two sons attended Fort Lewis College. Catherine is an avid hiker and always loves canine company.
Her professional career with horses started in middle school when she would ride sale horses at hunter jumper shows. Her passion for horses has taken her from a horse crazy girl to barn management and trainer. While horses are her first love, she enjoys all animals and has a wide variety of experience with all types of animals, both large and small.
Catherine balances her time outdoors enjoying horses, dogs and hiking, with a love of good books and French cooking.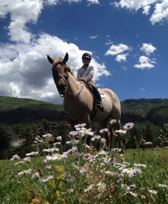 Tammy
– CAS Pet Care Pro
Tammy brings an immense amount of animal related experience to Custom Animal Services. She has cared for every type of animal from mice to birds to pot bellied pigs, in addition to the more usual critters like dogs, cats and horses. Tammy has over six years experience house and pet sitting and says she, "loves all animals". In addition, she worked for a dog trainer for six years in Redding, California which involved everything from housesitting an entire boarding kennel of dogs, to assisting in training classes and grooming.
Tammy moved to Durango in 2006 and married her husband Tommy in 2008. They have three dogs of their own, Biscuit, Milo and Lee in addition to a cat named Clyde and two Nubian Goats.
Some feedback from clients
about the care provided by Tammy:
"The service is first class! Beyond expectations. The dogs love you. Easy to reach and prompt. Will use again and again and will recommend."
"Tammy did a wonderful job. I have high expectations and they were happily met!"
Rebecca
– CAS Pet & Horse Care Pro
Rebecca grew up riding horses in Atlanta, GA and moved to Durango in 2003. She fell in love with the people, the landscape, and the animals and has stayed ever since.
She started pet sitting in middle school and has experience with dogs, cats, chickens, goats, horses, donkeys, mules, birds, fish, hamsters, and rabbits. Rebecca loves all animals, large and small, and prides herself in caring for all animals as if they were her own.
Rebecca graduated from Fort Lewis with A BA in Sociology and is currently working on a Masters in Clinical Mental Health Counseling at Capella University. Rebecca is also a competitive road cyclist. She just wrapped up her first year as a professional and is looking forward to many more years of successful racing.
She has two dogs of her own (an aging aussie-border collie-heeler and an energetic young lab mix) and picks up any horseback rides that fit between bike rides.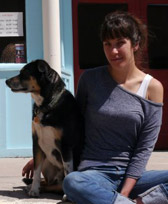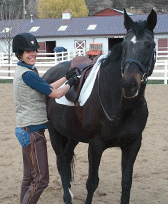 Mary
– CAS Pet Care Pro (Seasonal)
Mary has an extensive background in animal care. She has three grown children, one grandchild and has helped care for their variety of animals including dogs, cats, rats, snakes, fish, chickens and parrots. She has over six years experience in pet sitting, has worked with special needs animals and is familiar with giving a variety of medications.
Mary currently has a Cockatoo, Angel who adores her Grandson and children in general. Angel enjoyed a six week trip through Idaho, Oregon and California in a 19 foot trailer with Mary and her husband, Steve.
Some feedback from clients
about the care provided by Mary:
"My expectations were exceeded-it was so nice not to worry on vacation. Mary did a great job and I will ask for her in the future!"
"My plants looked great and my dogs were happy. My expectations were exceeded".